When I started to write this guide, I wanted to produce a site that was clear and useful for tourists. 99% of them will come to Barcelona to visit its architecture, eat some good food in fancy restaurants or spend time in the beach, and, if they take any trains, they'll do so just for the need of transportation. However, I couldn't resist taking a small space in my own webpage to suggest some train tourism (this is, taking a train just for the pleasure of it), particularly if you —like me— are a train nerd.
So, I will assume the following:
You are in Barcelona and you don't mind travelling to the countryside.
You enjoy visiting smaller towns like Vic, Sitges or Girona.
You take trains not only to go from A to B, but also to enjoy the ride.
R3 to Puigcerdà
R3 is the commuter line that connects Barcelona to Granollers, La Garriga and finally Vic, which is definitely worth a visit. Vic features a unique main square in which, every December, a very popular medieval fair is hosted. If you're in Barcelona during December, then attending the fair is a must. But the town is also quite charming during the rest of the year. It even has a Roman temple hidden in its old town. Travelling from Barcelona to Vic takes between 1h and 1h 30 min.
Vic has frequent connections with Barcelona (around 2 trains every hour). However, a few trains continue their way to Puigcerdà, a tiny town located in the middle of the Pyrenees, right at the border with France. The train line between Vic and Puigcerdà is twisty, slow and yet a wonderful trip. It was one of the first rail lines built through the mountains, and you'll experience aggressive valleys, beautiful peaks and breathtaking views.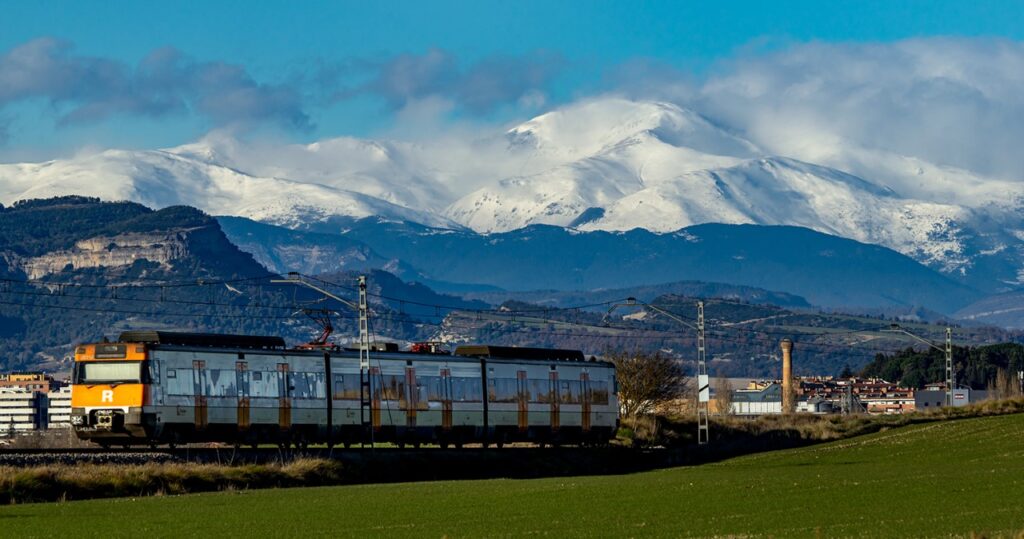 It's worth spending a few hours in Puigcerdà and walking around its historic centre. There are also good places to eat and taste local cuisine: bar Kennedy will offer a wide range of Tapas at an excellent price, and el Graner offers a more elaborate (and expensive) variety of delicious meals.
It takes around 3 hours to go from Barcelona to Puigcerdà by train. In a normal day, there are around 6 daily trains connecting both cities, so you should plan your trip ahead.
Curious for more train trips? I'll complete this page during the following weeks. Your donation is appreciated.